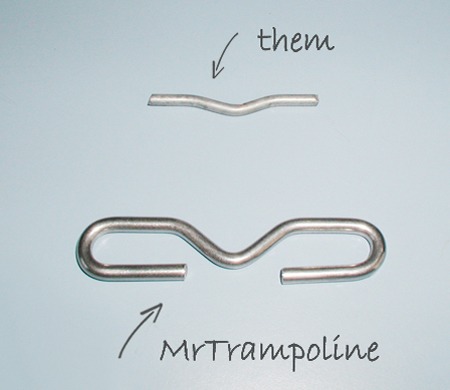 Quality Clips
Creating bounce magic and making your whole trampoline durable demands quality clips, well-designed for years of hard work in varied uses. Springs hook into those clips to connect the mat to the frame. Our large clips are strong and they are designed to distribute weight and bounce evenly. As they distribute stress evenly, they minimise the wear and tear effect on the mat.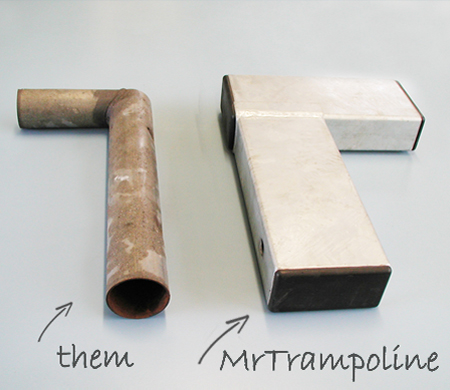 Framework corners
Mr Trampoline trampolines use heavy-duty, 4-sided rectangular framing with sturdy bolting to ensure no weakspots. We have a 'no drill' policy, so there is minimal risk of tears, rust or weakening of the frame. The extra-long, high tensile steel strings are fitted close together to ensure optimal 'bounce magic'. Built to Olympic standards, designed to withstand heavy use and harsh Australian weather conditions for 50 years.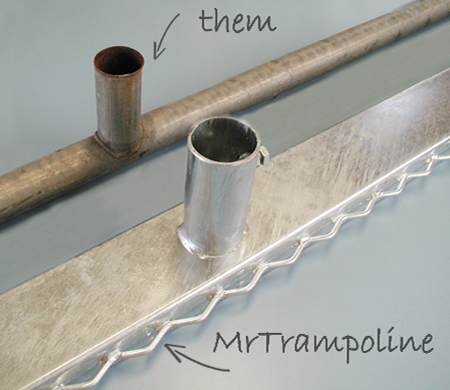 Galvanised framework
When you want a guarantee that your whole trampoline will stay strong from end to end with low maintenance, you want a sound base.
Our solid leg sockets guarantee that long life. They are hot-dipped galvanised – the best way to combine the strength of steel and the resistance to corrosion of zinc. Nothing else compares.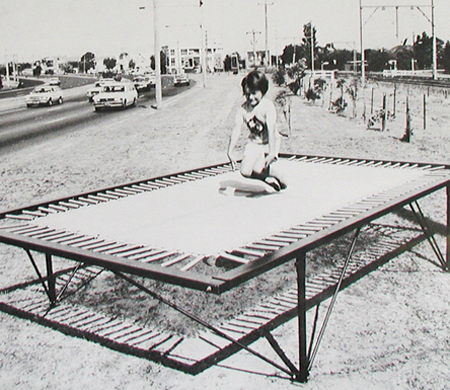 A Culture of Quality
You want to invest into a real trampoline that delivers well being and happiness for years to come.
That is why, since 1949, we have been building and refining rectangular trampolines to be the very best available. We only produce Olympic standard trampolines, with the best materials and the strongest most durable construction.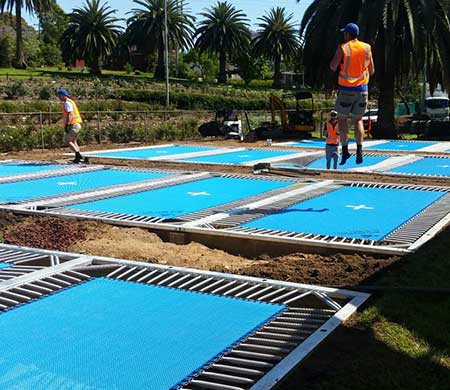 Planning & Installation Support
Our trampolines are the best available, we want them to have the best performance conditions. We train our installers and our installation manuals are comprehensive and clear to help you install to perfection. We are happy to discuss your vision and plans with you, your architects and landscape designer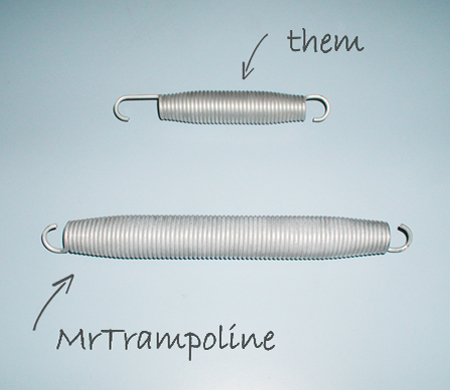 Heavy duty coiled springs
That magic feeling comes from the deep, soft controlled bounce you experience on our trampolines.
Our huge 11 inch springs help deliver that amazing feeling, bounce after bounce. They let you enjoy the simple relaxed fun and wellbeing, effective therapy or high performance training, or the thrill of the latest clever moves you've learnt.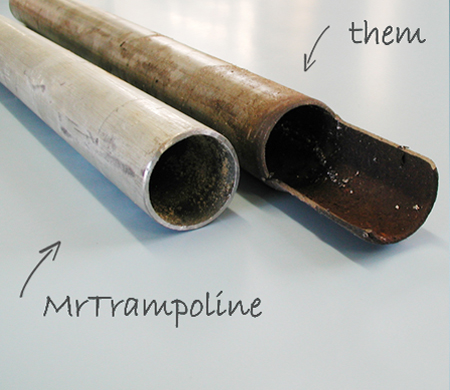 Leg Durability
Our Australian climate puts increasingly harsh demands on outdoor products as climate variations become more and more extreme. So we use the very best material and refuse to make any compromise that would shorten the value of your investment. Our trampoline legs are made with top quality steel. After 5 years of use, they are still strong and virtually rust and wear free.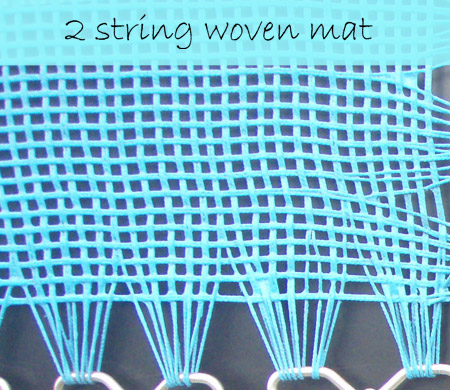 Two string trampoline bed
Our two string woven mat produces a deep, soft and low stress bounce. Superior performance comes from using the highest quality terylene two string woven mats.
In addition to that, we coat them with an all-weather rubber based top coat to give our mats a long life. And we recommend recoating every 5 years to get a lifetime of perfect bounce!